Therapeutic Gesture
Towards Personalized Orthopaedic Surgery Management
Develop new solutions for a better surgical management in orthopaedics. Our team has more than 15 years' experience in computer assisted orthopaedic surgery.
Innovative measurement devices to optimize surgical planning: Pre-operative determination of patient-specific morpho-functional parameters for a personalized Total Hip Arthroplasty (THA)
Example of a new ultrasound-based device to measure the patient-specific pelvic tilt in different daily positions for the optimization of the cup orientation in THA [https://www.ncbi.nlm.nih.gov/pubmed/31665548]
A new generation of intraoperative surgical solutions for an optimal surgical assistance: towards new markerless and non-invasive guidance systems
New Markerless intraoperative 3D localization systems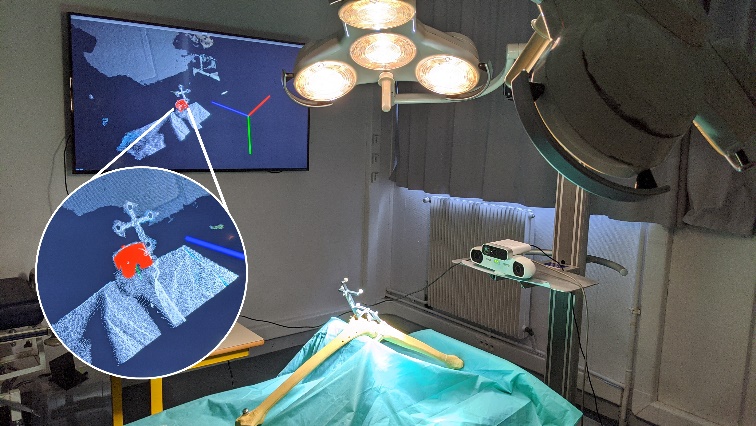 Intraoperative depth cameras for orthopaedic surgical instrument pose estimation
Interventional non-invasive Imaging solution

Ultrasound modality applied to orthopedics [https://www.ncbi.nlm.nih.gov/pubmed/30194565]
Smart implants for personalized post-operative patient Follow-up
Design and Development of a self-powered, fine-tunable knee implant for post-operative Ligament Imbalance Correction
Development of a new generation of instrumented knee implant with integrated power generator, power conditioning system telemetry system and actuators for fin-tuning the implant shape in the postoperative period.
Two projects in progress
Event
The international society of Computer Assisted Orthopedic Surgery will be held in Brest in June 2020, after New-York in 2019, and Beijing in 2018. More information at https://caos2020.com

Contacts
Guillaume Dardenne ()
Eric Stindel ()
Chafiaa Hamitouche ()